Trainz Railroad Simulator 2004: Service Pack 2 - Passenger Pack
Service Pack 2 - Passenger Pack is the latest free update for Trainz Railroad Simulator 2004. This service pack brings fixes to many known issues and bugs and includes a number of additional features.


Rail Driver
The RailDriver desktop cab controller replaces your keyboard and gives you levers, switches and dials for more realistic control.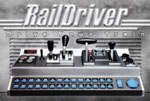 Paintshed: TRS2004 Compatible (File size: 81mb)
(Visit the Trainz shop to get Paintshed on CD for the cost of P&H)
This great little utility lets you repaint a large number of the various locos and rolling stock items using an intuitive 5 step process that takes just minutes to learn. For our new TRS users this will also make many more of the Download Station items compatible for your use.

Latest Download Helper (File size: 1.8mb)
Those of you with Ultimate Trainz Collection or TRS2004 pre SP2, this new update will replace your existing version of the Trainz Download Helper to work with server updates for SP2. This current version requires you to have UTC or TRS2004 installed. If you have SP2 installed for TRS2004, you do not need this update.


Download Content Dispatcher Download Station update (File size: 520kb)
Content Dispatcher patch for UTC users to fix problems with downloaded content from the Download Station.

Content Creation Guide
For those of you itching to get into developing more custom content, the TRS2004 Content Creators Guide is now available for download.

TrainzObjectz-developed by TaFWeb
TrainzObjectz assists you with managing TRS2004 content in an easy and efficient manner. It is an ideal application for all Trainz users, from the casual Trainz user through to Content Creators.

Download Station
Expand your railroad experience with a library of over 20,000 routes, locos, scenery objects, rollingstock and much more all available from the online Download Station.