Beautiful Queenslander style homes are perfect for the tropical climate in Brisbane. These open, wooden houses, usually have wide verhandas to sit and relax on, during summer's balmy evenings. This page is designed to introduce you to the cost of property in Brisbane and also provide you with the information you will need to either rent or buy somewhere to live.
Renting
Most Real Estates will require 4 weeks rent as bond, which is held with the Bond Office as security and returned after a satisfactory inspection of the premises is performed by the Real Estate agent when you move out. In addition, you will also need to pay two weeks rent upfront.
Most leases are for a minimum period of 6 months and require at least two weeks notice when you move out. If you break your lease, most agents will have you pay rent until another tenent is found for the property.
If you rent privately and not through a Real Estate agent, your terms and conditions may be more negotiable. It is helpful to have previous rental history and references available.
In Brisbane, the land rates (council rates) are paid by the owner and not the tenant. Additionally, excess water rates are usually paid by the owner unless specified in your contract.
Buying
Another affordable option in Brisbane is to buy your own home. To obtain a loan to purchase your new home, you will need either equity (usually another property or a substantial amount of cash) or a percentage of the purchase price of the property as the deposit (10% for Australian residents and 20% for non Australian residents). As well as the deposit, you will also need to cover the legals and stamp duty. Currently, home loan interest rates are at an all time low of an average of 5.65% per annum fixed for one year plus fees and charges. Addtionally, non Australian residents will have to complete an application to the Foreign Investment Review Bureau and prove that you have an Australian income.
For additional information, the following URLs link to Real Estate Agents with local properties to rent and buy.
The Professionals - South Brisbane
Doug Disher - Century 21




Below are some prices for both rental and residential properties that should give you an idea of the average cost of property in Brisbane.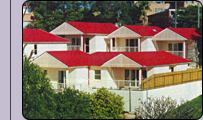 Rentals
Suburb
Description
Price per week
New Farm
1 Brm, furnished, self contained kitchen, share bathroom, includes power.
$ 80.00
New Farm
1 brm unit, modern, gym/sauna/spa in complex, security, off street parking
$140.00
New Farm
2 brm, unfurnished, balcony, close to shops, bus, spacious rooms
$145.00
New Farm
2 brm, unfurnished, townhouse, ensuite, balcony, city views, 2 car accomodation
$195.00
East Brisbane
1 brm, fully furnished, brick unit, carport, common laundry, incl. Gas & elect., close to transport
$105.00
Kangaroo Point
1 brm, fully furnished bed sit, air conditioned, close to transport, includes electricity
$140.00
Kangaroo Point
2brm, good condition, new bathroom, built-ins, garage, fantastic city & river views
$200.00
East Brisbane
3brm, timber cottage, polished floors, close transport, fire place, pets ok
$190.00
Brisbane City
2brm unfurnished unit , air conditioned, 1 car accom, great City view
$410.00
Brisbane City
2brm, fully furnished, fully air conditioned, pool, gym sauna and spa
$450.00
Brisbane City
2brm,2 bathroom, luxury unit, fully furnished & air conditioned, views of the river, balcony
$420.00
Brisbane City
Luxury 3 brm, fully furnished, air conditioning, 2 car space, pool, gym and sauna
$550.00
Paddington
1brm, tidy flat incentral location, fully furnished except for bed, share laundry
$ 90.00
Paddington
1 brm, , neat & tidy, fridge, security door, unfurnished, walk to everything
$110.00
Red Hill
2 brm, large, unfurnished, separate lounge, dining, spacious, central
$140.00
Paddington
4 brm, unfurnished large flat in central location, ensuite big bedrooms, large lounge
$195.00
Everton Park
2 brm, highset brick, patio, unfurnished, lock up garage, patio, close shops & transport
$170.00
Everton Park
3 brm, low set townhouse, fenced courtyard, ensuite, close shops, transport & schools
$190.00
Everton Park
2 brm, high set, security bars, newly painted, fully fenced, small study, lock up garage
$155.00
Everton Park
3 brm, high set, front patio, ensuite, study, walk in robe, rear deck, quiet street, close shops
$180.00