Planet Auran is being replaced with MyTrainz, A full account system designed for Trainz.
All of your Planet Auran account details will work with MyTrainz.
Buy 1 Give 1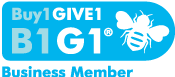 Buy1Give1 (B1G1) is a global initiative that was founded in 2007. N3V Games has joined B1G1 to make a difference in the world, by giving to "B1G1" Projects.



Giving
Feel good about your game purchase by automatically giving to people around the world.

Support given so far:

---

Feed a school meal to a child in need
Feed one child a free meal delivered to school for a day. Many children are suffering from malnutrition due to the family's poor economic condition. The number of drop out students increases day by day. One nutritious meal per day at school encourages the children to go to school and get proper education. Mid day meal project at PVO's Day Care Centre has a great impact on child education. It motivates parents as well to send the child to school.

Charity: Punaruthan Voluntary Organisation (www.punaruthan.org)



---

Give one meal to a child
Feed a child ONE meal. These orphans and underprivileged children of Nepal await you to share your joy of giving with them.

Charity: Katja Foundation (www.katjahouse.com)








---
Supply toiletries to a child for a month

Giving orphaned children hygiene kits of toilet paper, tooth brushes, tooth paste and soap for a month in Kenya.

Charity: World Youth International (www.worldyouth.org.au)








---
Clean water for one person for a day

Give access to clean water for one person for ONE DAY. Every 8 seconds, every day, a child somewhere in the world is dying from drinking contaminated water. A simple well and water pump is all that is needed to reduce deaths from water-borne diseases and we are already building these, with the help of local people, in villages in Malawi.

Charity: World Youth International (www.worldyouth.org.au)




---
Participating Shops
Buy a Game and Give to a Community by shopping at the following participating shops: