Trainz Stations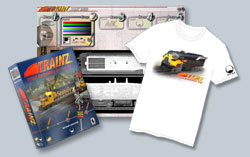 Model a train station/depot from any country or period using gmax and Trainz Asset Creation Studio.
Platform height should be 1.3m in accordance with height of platform people; if you want to model North American style low level platforms they may be of arbitrary height.
Maximum 500 polygons.
Maximum of 4 sub-materials.
Maximum total texture resolution 512 x 512 plus 1 opacity.
Models will be judged both on presentation and efficiency.

Competition closes 29th March 2002.
1st Prize:
Trainz Retail Release
Trainz Paint Shed
Trainz T-Shirt
2nd Prize:
Trainz Paint Shed
Trainz T-Shirt
3rd Prize:
| | | |
| --- | --- | --- |
| | 1st Prize Winner | |
| | 2nd Prize Winner | |
| | 3rd Prize Winner | |
---
Trainz Spotters Competition!
Trainz is about to hit the shelves and itís time for the next great Trainz competition. This time, itís simple. The first five people to email us a photograph of Trainz on the shelves will win a Trainz T-Shirt signed by the Trainz team. Your photograph should feature the retail boxed version of Trainz in the store along with the name and address of the store at which it was taken. See, simple. Send your entries to Helpdesk.



First Winner!

John_B

John found this copy of Trainz at Electronics Boutique in LA.


Second Winner!

Roger List

Roger found his copy at Electronics Boutique in the Park Meadows mall in Denver, CO.


Third Winner!

Doug Waterman

John found this copy of Trainz at Media Play
Appleton, WI.

Fourth Winner!

marshallaw

Sam found this copy of Trainz at Electronics Boutique in The Antelope Valley Mall



Fifth Winner!

WestSideRailways

Michael Sherman found this copy of Trainz at Harvey Norman in Highpoint Shopping Centre in Australia.


---

Past Competitions
Show Us Your Layout and Win - Winners Announced!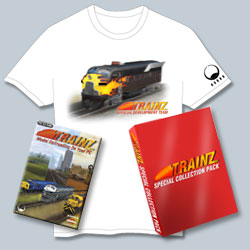 Now that you have Trainz in your hands, we want to see who is made of the right stuff! If you think you can create a pretty good Trainz layout and you have what it takes to pass the Rob "that's all there is to it" Shaw test, then get your creative juices flowing and show us your layout!


1st Prize

The winning layout will be featured in a special Trainz Collection Pack which you will receive once it is released
Signed copy of Trainz
T-shirt
2nd Prize

Signed copy of Trainz
T-shirt
3rd Prize

The Show us your Layout competition has closed, a winner will be announced on the February 6th 2002...Stay tuned!


Rules
A layout using four baseboards in any arrangement. Four baseboards is the maximum! 1, 2, 3 also allowed.
Limited to one entry per person - no updates or part submissions accepted.
No use of customized scenery objects.
Customized ground textures are acceptable.
Layouts will be judged by the Trainz team - the decision will be final.
We encourage layouts to be thoroughly tested prior to submission - please post links on the layout forum along with a description of your layout for others to test.

1st Prize Winner

Australis
by Ozzie_Dave (Dave Arrowsmith)

A mixture of many Aussie themes. From the industrial port city on the coast to the alpine scenery of the Great Dividing Range and the farmlands beyond.


2nd Prize Winner

Aotearoa
by Sirgibby (Michael Sutton)

A non-prototypical layout "loosely" based on the New Zealand countryside and terrain in the province of Taranaki.


3rd Prize Winner

Highland Valley
by CeeBee (Chuck Barkman)

The BC Interior "Highland Valley" is a double track mainline with a branchline leaving the valley, gaining elevation to reach several communities and 2 mines.

Encouragement Award


Scottland
by Scott Lockett (12 years-old)

Honorable Mentions
(in no particular order)


Australiana
by Boweavel


Canadiana
by Vongarv


Columbia Comp
by Cafe


Kalamunda
by 70000


Oz Trail
by Jetstreamsky


Western RR
by MarshalLaw


Serendipity
by mimic2g


Sunville Valley
by PikkaBird


Tiffany AZ Mine
by Valkyrie


Tinowle Plains
by Leon
Privacy Policy | Requirements
All text and images © N3V Games Pty. Ltd. ABN:43-118-743-534, 2000 - 2019. All rights reserved.