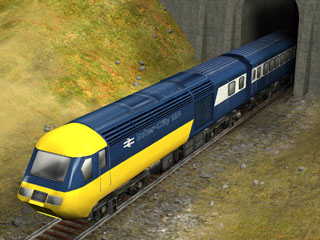 BR Class 43
197 HST power cars were constructed at the Crewe locomotive works between 1975 and 1982. Displacing ageing locomotive hauled consists initially on the Paddington to Bristol and South Wales services, and later on the main line from Kings Cross to Leeds; the HST consists proved massively popular with passengers, greatly reducing trip times.
Railfans were a little slower to see the beauty of these modern units replacing the romantic loco hauled services during the 70's and 80's. Today however, on Britains highly DMU and EMU serviced systems, the 125 is gaining considerable popularity.
The Inter City 125 is the worlds fastest diesel train, having achieved a speed record of 148.5 mph during November 1987.
---
Resources
General Data
Dimensions
Images
3D Model
HST Gallery - Railway Photography by Steven Jones
HST Image Directory - European Railway Server
the 125 Group
HST rolling Stock
Popular BR Diesel Electrics.
Many thanks to Paul '43047' Webster - 'the 125 Group'.
---