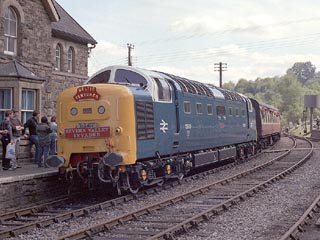 Photo courtesy Steve Jones © copyright 1999 &nbspSteve Jones' Railway Photos
BR Class 55 "Deltic"
"Old train take me back again,
To the one that I love"
- Deltics, Chris Rea, 1979 (Chrysalis)
The Class 55 'Deltic' is arguably the most famous British diesel. Taking it's name from the greek capital letter 'delta', which inverted is representative of the triangle arrangement 'opposed piston' principle of the power unit, the Deltic is something of a legend in the history of UK locomotive developement.
English Electric chairman Lord Nelson saw the potential for traction of an engine developed by subsidiary Napier for Royal Navy gun-boats. At Nelson's behest and in spite of opposition from English Electric's traction group who had traditionally been a major supplier of locomotives to BR; a prototype locomotive was constructed during 1955 using 2 Napier prime movers. Several years of testing demonstrated the enormous potential of a locomotive with 3,300hp, and also it's unexpected reliability.
Under it's modernisation plan, BR envisaged electrification of the East Coast main line from King's Cross, though with no sign of this eventuating, it sought a diesel locomotive that could perform comparably to electrics for use in the Eastern, North Eastern and Scottish regions. In 1959, an order was placed for 22 units of English Electric's new 'Deltic' design. At the time of rolling off the assembly line in 1961, these locomotives were by far the most powerful diesel locomotives in the world at 3,300 hp, predating ALCo, GE and EMD's 3000hp models by several years.
Although radically different in design to other EE units, operating controls were generally similar, but the principle of the Deltic's engine didn't lend itself to heavy handling of the throttle, which could lead to automatic shutdown. Regardless of this peculiarity, the Deltic was very popular with crews, making light work of heavy expresses, and racing up tricky grades such as the 1 in 100 (.05%) climb to Stoke Summit at speeds of over 90mph. The Deltic's introduction resulted in vastly improved timings and therefore increased patronage for BR. The Deltic hauled "Flying Scotsman" for example, made the 271 miles (433km) from King's Cross to Newcastle in just over 3.5 hours at an average speed of 71.8 mph (119.8km/h).
After 15 busy years in service averaging roughly 500 miles daily, the Deltics were briefly relegated to secondary services. While their low axle loading made them ideal for working light lines, high maintenance costs, non standard components and deteriorating bodywork resulted in early withdrawal. The last official Deltic hauled movement arrived at King's Cross on January 2, 1982 sadly ending this memorable era in British passenger transport and ushering in that of less than elegant HST sets powered by more conventional Paxman engines.
---
Resources
Steve Jones' Railway Photos - UK rail photos by subject
Deltic 9000 Locomotives Ltd. - owners of "Royal Scots Grey"
the Definitive Deltic Library - by Paul Bettany
the Deltic Preservation Society - homepage
---