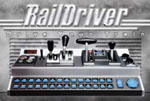 The RailDriver desktop cab controller replaces your keyboard and gives you levers, switches and dials for more realistic control.

RailDriver Support: Ultimate Trainz Collection offers full support for RailDriver Train Cab Controls. Drive your train with realistic hardware: throttle, reverser, and brake levers; horn, bell, headlight, and sander switches;and 34 programmable buttons. Driving your trains has never been closer to climbing into a real cab.

RailDriver can also be used with Microsoft Train Simulator

Custom Controls: RailDriver Cab Maker lets you edit the functions of all levers, switches, and keys on the controller to create a custom operating panel for your favorite cab.

The keyboard emulation application (under development) turns the output into keystrokes to support other games. RailDriver Analog and DCC Control Modules (under development) adapt the controller for driving scale model trains.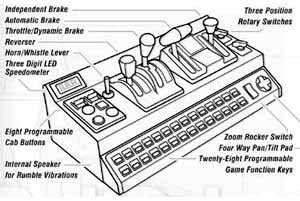 Specifications:
Control Unit Dimensions & Weight

13.5" x 7" x 4"

(34cm x 18cm x 10cm)

5.5 Lbs (2.5 kg)

Connection to a PC via a six foot-long USB cable permanently attached to the box.

For a recent review of RailDriver check out www.Train-Sim.com

Order your RailDriver Now! from the Auran Shop

Privacy Policy | Requirements
All text and images © N3V Games Pty. Ltd. ABN:43-118-743-534, 2000 - 2019. All rights reserved.