| | |
| --- | --- |
| | Ultimate Trainz Collection wins an "Editors Choice!" Award from Gamezone with a score of 9.0 |
| | Ultimate Trainz Collection wins CGM "Editors Choice" Award with a score of 9.1 /10 "the trains and environments are so realistic you can imagine yourself as a real engineer in a real train" |
Trainz Railroad Simulator is the most detailed and immersive railroad experience ever, letting you control almost every aspect of a working railroad. Let your imagination run free as you create stunning 3D worlds, take charge of thousands of tons of heavy freight or simply keep your passengers happy as you take on the challenges of a real train engineer. Add to the excitement by controlling multiple locomotives, coordinating activities, switching junctions and ensuring each train arrives safely at its destination.

Product Features
2 CDs jam packed with content including Trainz Railroad Simulator, Paint Shed (UTC Edition) and special Bonus Content.
Trainz Railroad Simulator

Surveyor: an easy to use and addictive world editor
Move mountains, construct cities, create dense forests and lay your tracks, roads and power lines using this powerful and intuitive world editor. Add life to your creations by controlling the weather conditions, setting the lighting moods and adding animated industries. Choose from the 1000s of objects included, download new free custom content or create your own.
Driver: a full driving simulation and much more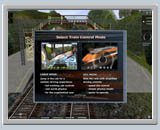 Assemble your favorite trains in preparation for a busy day of operations. As engineer, climb into the full 3D cab, and take charge of passenger runs, shunting yard exercises and heavy freight movements. Choose from the simple or realistic controls, or simply sit back and admire the spectacular scenery. For a completely different perspective, switch on the autopilot and operate all the junctions as you ensure the safe and smooth running of your own private railroad.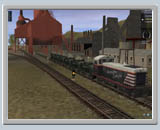 Scenarios: compelling gameplay
Immerse yourself in the challenging world of a train engineer as you undertake your day to day work orders. Test your skills from novice to expert. Ensure that you follow your instructions while attempting to complete your tasks on time and without mistake.





My Collection: engine shed showcase
Examine the stunningly detailed and extensive collection of more than 130 different locos, passenger cars, freight wagons, tank cars and cabooses! Study powerful diesel workhorses from Britain, classic switchers from the USA or high speed electric passenger locos from the Continent. Discover the background and detailed statistics for each car or loco and operate the horn, headlights or pantographs. You can also check out all your downloaded custom content including steam locos, traction engines and more.


---
Ultimate Trainz Collection includes:

Trainz Paint Shed- UTC edition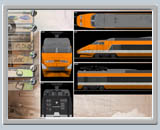 Bring your ideas to life and expand your collection to new limits. Paint Shed allows you the freedom to design and create your very own unique railroad paint schemes or authentically repaint your favorite trains from throughout the world. Included is a whole new set of locomotives and freight cars and an easy 5 step paint program. With Trainz Paint Shed you'll have a yard full of customized locos and rolling stock before you know it.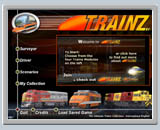 Trainz eXchange*
The Official in-game Trainz Magazine to broaden your Trainz Railroad Simulation experience with quick and easy in-game access to dynamically loaded news, reviews, and much more. Trainz community members share their common interest in trains allowing you to find out more about new products and discover tips and tricks from your peers!
* Internet access required



Expand your Collection:
Add to your Trainz collection by downloading new content from the official Trainz Download Station. Dynamically search, download and install a huge variety of content from the thousands of objects already available and those being added to daily. Additional support for all your custom content is provided using a range of Trainz utilities:

Trainz Content Manager - find, sort and manage all your custom content.

Trainz Content Dispatcher - package your creations, routes and layouts for distribution to others.

Trainz Foundry - create your own file directory structure for new content

Gmax V1.1 by Discreet - a fully featured 3D modeling package to create 3D objects

Trainz Asset Creation Studio - the gmax gamepack which allows objects to be imported into Trainz